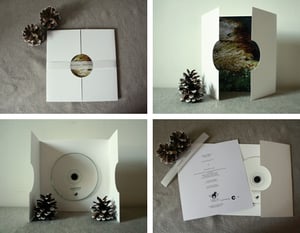 $

10.00
(DalaHorse.II.)

Richard Moult
Suite for Titouan

Photography by Lauren Winton

Richard Moult's space

Lauren Winton's space


"Suite for Titouan" is a suite for solo piano which consists of five improvised movements.
This music might sound minimal in its approach, but in reality it's full of shades and feelings, intimate but at the same time maintaining an austere and elegant approach. It's a timeless music because it's deeply emotional, and emotions go beyond time itself. Richard Moult, through his compositions, paintings, collaborations (David Tibet, United Bible Studies, Agitated Radio Pilot, Sol Invictus...) and personal works , travels on a path based on honesty, with that feeling which we hope will never abandon the human essence.

----------

Big as a 7" vinyl, in the middle of the two front sleeves there is a hole from which one can catch a glimpse of the photograph taken by Lauren Winton which is inside. The inner page has on one side the photo and on the other the contacts with the number of the copy. The cdr is held by a black foam hub and each copy comes inside a transparent envelope.


*
(For more pictures go on myspace)